Background & challenges
At the Real Food Fight farm, everything is produced in harmony with nature. The bread is baked on site using traditional grains milled on the farm. Around 50 plant species are grown in combination with livestock farming, thus providing habitats for biodiversity. Animal traction reduces the impact of activities on the soil. The farm is organic certified (Agriculture Biologique, AB).
Taking his approach one step further, Andy, an English-born traditional baker, has committed to an ambitious pluriannual project to plant trees on his 100 hectares and so move into agroforestry. The French Agroforestry Association (Association Française d'Agroforesterie, AFAF) suggested you to support this shift to an agro-ecological system. Planting 300 trees in 2018-2019 has deliver the following benefits:
Protected and regenerated the soil (storing carbon)

Provided habitats for fauna and flora, as well as enhanced biological life

Made the system more robust by preserving the water resources and buffering climate fluctuations
To sum up, this approach produced quality foodstuffs through a system that is economically, socially, and ecologically efficient.
Project type

Beneficiaries

The Real Food Fight farm, Naroques, Gers (department in southwest France)
Number of trees

Species planted

Rows of hazels (15), walnut trees (80)
Rows of fruit trees: pear (20), apple (20), pomegranate (15), plum (15), vine peach (15), and fig (15)
A low hedgerow of populars (50)
A row of sessile oaks (40) and mulberry trees (15)
Operator

The French Agroforestry Association (Association Française d'Agroforesterie, AFAF) and the association Arbre et Paysage 32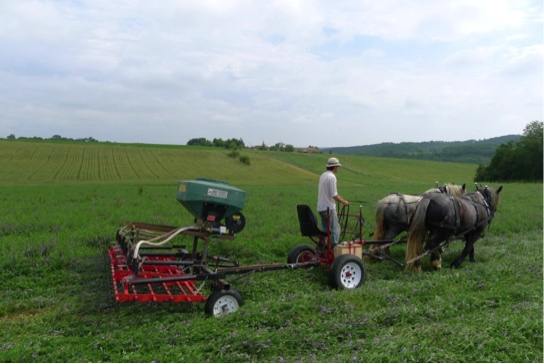 Works timeline
September-October 2018: preparing the soil along the planting rows, laying down strips of sod

November-December 2018: planting, setting up protection measures, laying down mulch

2019-2021: maintenance of the plantation, replenishing where necessary and first pruning. Additional planting (diversification)

2020 & beyond: pruning and lopping, soft start harvesting (fruit, nuts, fuelwood, fodder)
Operator
Created in 2007, the French Agroforestry Association (Association Française d'Agroforesterie, AFAF) develops agroforestry in France, both in the agricultural and political spheres as well as with the public at large.
The association is a platform for discussion and partnerships between farmers, agroforestry operators, research, policy makers, public bodies, and authorities. Taking a proactive approach at both national and international levels, AFAF works to restore trees in their rightful place within agricultural systems.
The French association Arbre & Paysage 32 is a field operator for local trees and agroforestry. For 27 years it has worked in various capacities – from consultancy and diagnostics, to information and education, to dialogue and R&D.
Budget
The total sum that has been collected amounts to €7,200 for this initial planting operation in 2018-2019.
The €24 cost of planting a tree breaks down as follows:
Seedlings & replenishing: €3.95

Mulching: €0.9

Protection & staking: €4.1

Advice: €3.5

Worksite technical support: €0.9

Monitoring over three years: €0.9

Coordination, project management and communication : €4.95

A Tree For You collection, monitoring, and communication costs: €4.8