Background & challenges
In the sensitive region of Lake Itasy, the Mahavotra project is helping 700 farming families to change their practices and introducing forestry and agroforestry systems.
Objective: to finance the plantation of 240,000 trees in 2019, of which 108,000 are expected to remain after three years.

Covering a surface area of 35-square-metres, Itasy is the third biggest lake in Madagascar. It plays a pivotal role in developing the region, especially tourism and fishing, yet is at threat from silting caused by inappropriate practices, e.g. crops grown on slopes without anti-erosion measures or slash-and-burn. The surface area of the lake has shrunk by between15 to 20% over the past 50 years!
The Mahavotra project has two action plans:
Forestry planting on uncultivated land to provide the local population with firewood and extra income over the medium to long term

Agroforestry planting to boost income over the medium term: selling fruit and coffee after three to five years
Beyond these direct economic impacts, sustaining and improving soil quality through tree planting improves the yields of subsistence crops. Planting leguminous trees like acacia for instance, also provides large quantities of value-added biomass for making compost.
Last but not least, tree plantations also have a significant social impact on the land tenure of the plots in question.
Project type

Agroforestry and forestry
Beneficiaries

700 farming families, men and women
Number of trees

240,000 trees to be planted of which 108,000 are expected to remain after three years
Species planted

Forest species: pine, acacia, mainly eucalyptus but also rosewood, Grevillea, Paulownia mantaly
Agroforestry species: orange tree, lemon tree, mandarin tree, coffee tree and lychee tree.
Partner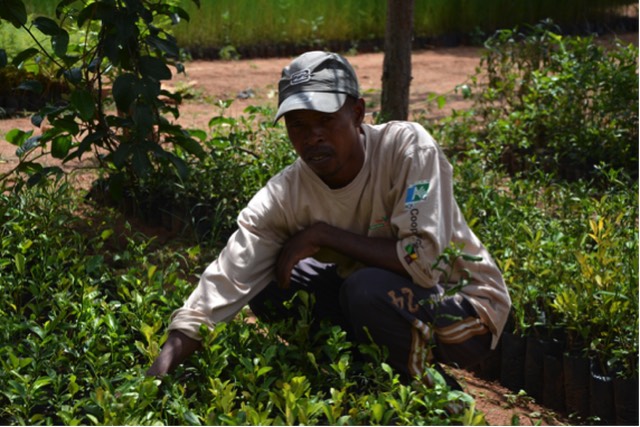 Works timeline
Since the project depends on planting seasons, Agrisud prefinanced the first operations to ensure a start on time!  Your donation is clearly essential to balance the budget.

July to November 2018: pinpointing the sites and beneficiaries

October 2018 to March 2019: training site managers and beneficiaries, making planting holes, planting

January to June 2019: monitoring growth of seedlings as they take root
The following years, up to 2022:
July to September: monitoring seedlings and assessment of replenishment needs; introducing and maintaining fire protection measures (around the plots and/or the seedlings and associated crops)

October to December: monitoring seedlings and helping farmers obtain replenishment seedlings

January to March: replacing planting failures

April to July: maintenance of plantations and fire protection measures
Planting partner

Created in 1992, Agrisud International is a charitable public utility association.
Its teams help people in need to set up and develop very small, family-run agricultural holdings that are viable, and sustainable thanks to agroecology. Such ventures create value and are economically profitable. They are organised and implanted in their territory and on local markets. How so? Because the entrepreneurs follow a professional development path that leads them from precarity to independence: 60,000 very small holdings supported since 1992.
Operating in Madagascar since 2008, Agrisud is active in 15 countries in Africa, Asia, South America, and the Caribbean.
Its total annual budget of €4 million is financed 70% by public funding (French Development Agency, European Union, Coop déc.) and 30% by private sources (foundations, businesses, individuals).
Budget
The total funds to be raised amounts to €187,920 and covers the planting and monitoring operations. The price per lasting tree planted starts at €1.74 and breaks down as follows:
Plants: €0.42

Technical support during the first year of planting: €0.43

Technical support for three years after planting: €0.39

Project coordination : €0.16

A Tree For You collection, monitoring and communication costs: €0.34
Additional organisations – French Development Agency, Région Nouvelle Aquitaine, and the Albert Schweitzer Ecological Centre – are funding other parts of the project to the sum of €1.060 million. 
"The Tour Operator Salaün Holidays has long been committed to responsible tourism and wishes to reduce its environmental impact. In partnership with Air France, the Tour Operator Salaün Holidays is participating in the Mahavotra project."

They donated to support this project in 2019: