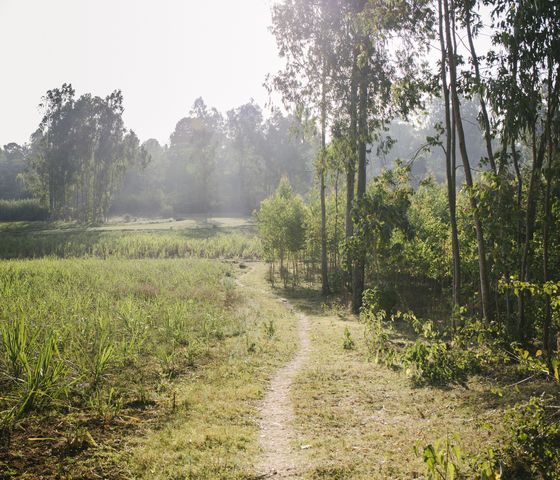 Background & challenges
In East Africa, most of the coffee production is provided by small scale farmers weakened by coffee prices' variations, difficult weather conditions and a high cost of inputs. Climate change has major consequences on this essential livelihood source: the Climate Institute forecasts a 50% drop of global coffee production and a 50% reduction in surfaces prone to coffee cultivation by 2050.
Coffee cultivation in the Sidama area in southern Ethiopia benefits from the « Sidama Region » trademark. Coffee trees grow on hilly terrain, where soil erosion caused by severe wind and droughts threatens the production volumes and quality. Intensive eucalyptus wood production, which tends to absorb all the available nutrients, increases the pressure on soils.
In this context, the Ethiopian project is organised towards three objectives:
the plantation of 495,000 trees in coffee plantations, using an agroforestry model, to ensure the long-term sustainability of family farming, reduce soil erosion, optimise land use and increase revenue for more than 5,500 farmers through the plantation of forest and fruit species

training in better agricultural practices (e.g. land use, reasonable input use, and shade management)

the development of improved cookstoves to reduce the need for cooking wood (and tree cutting)
More than 22,400 beneficiaries will take advantage of the project's impacts.
Project type

Beneficiaries

5,500 smallholder farmers and their families

Number of trees

495,000 trees planted over 4 years, of which 297,000 are expected to remain over time
Species planted

Avocado (Persea americana), apple (Malus domestica), wadicho (Cordia africana), dagucho (Podocarpus falcatus), hooncho (Juniperus procera), matichcho (Albizia gummifera), hengedicho (Millettia ferruginea)
Partners

PUR Projet and The Sidama Coffee Farmers Cooperative Union (SCFCU)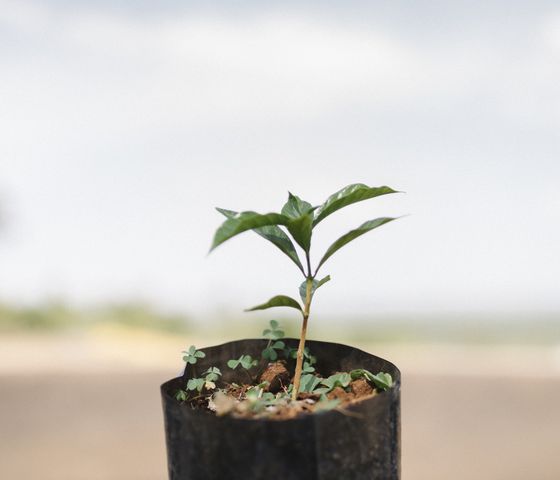 Works timeline
January 2020: preparatory meetings with producers

February – March 2020: pre-registrations (registration of producers interested in the project and visits to their plots)

April & June – July 2020: Distribution of seedlings and planting by producers

Month to be determined in 2020 (depending on the restrictions on meetings in Ethiopia due to the Covid19 pandemic): training of small producers in good agricultural practices

2020-2021: distribution of the 100 cookstoves

October – December 2020: monitoring visits 1

May – July 2021: monitoring visits 2
The schedule will be the same for planting waves in consecutive years (2020-2023). Years 2024-2029 will be fully dedicated to the monitoring visits.
A special training in women empowerment issues will take place in 2020-2021.
Planting partners

PUR Projet helps companies to restore the ecosystems on which they depend, while enabling local communities to improve their living conditions through long-term projects. Through agroforestry, land conservation and sustainable agricultural practices, PUR Projet helps companies strengthen and secure their supply chains. As a social enterprise, PUR Projet reinvests its profits in the development of innovative projects, encouraging local entrepreneurial initiatives for a responsible, positive and virtuous economy.
The Sidama Coffee Farmers Cooperative Union (SCFCU), born from an association of local cooperatives, was established in 2001 to support a sustainable coffee production for cooperatives in the Sidama region. SCFCU currently supports 46 cooperatives with more than 80,000 members. It has helped them gain access to global coffee markets. It is also supported by the local governement agency for agronomy.
Budget
The total funds raised amount to €2,732,059. The price for a lasting tree planted starts at €9.20 and breaks down as follows:
Seedlings, plants, transportation and farmers' incentives – 13%

Trainings – 11.5%

Cookstoves – 0.5%

Field supervision and technical management – 43%

Project coordination and communication – 26%

A Tree for You collection, follow-up and communication expenses – 6.30%
In the context of its Climate-Environment "Total Foundation" program, Fondation Total's philanthropy support includes a large scale agroforestry program in Kenya and Ethiopia. The program is deployed over a 10-year span by A Tree for You, which leverages its partner PUR Projet's experience and know-how for field implementation.