Background & challenges
The village of Pejarakan relies heavily on its marine ecosystem and natural coastal resources to meet its everyday needs.
Traditional and destructive fishing methods plus the disappearance of mangroves have led to serious biodiversity decline. Heavy rainfall during the wet season on land stripped bare between two crops has also resulted in vast quantities of sediment being deposited in the lagoons; which in turn prevents coral reef renewal.
The standard of living within the local community and its ability to withstand instabilities is being undermined.
The project has two action plans:
Conservation and restoration of particularly important mangroves to protect coastal areas and biodiversity;

Implementing a management plan for plastic waste to tackle critical pollution in this area.
In addition to these two plans, another two, which have already received funding, consist of planting trees on cultivated plots to avoid soil erosion and using 'biorock' technology to speed up coral reef restoration.
Project type

Beneficiaries

Mangroves: the community association Putri Menjangan, i.e. around 120 members, of which one third are women
Waste management: an association bringing together different groups working to protect the local environment
Number of trees

Species planted

A wide range of mangrove species to ensure resistance to disease and hurricanes: stilted mangrove, loop-root mangrove, tall-stilt mangrove, yellow mangrove, tengar, and oriental mangrove
Operator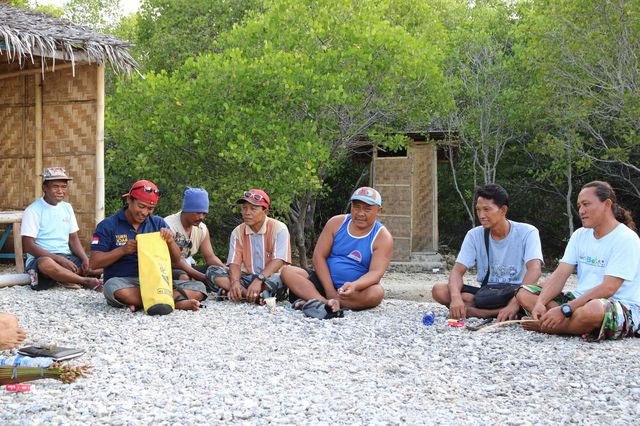 Works timeline
2018: preparing nursery seedlings for plantations in 2019 and 2020


February 2020: planting starts

May 2020: monitoring seedlings as they take root

Cleaning the beach every week to reduce the risk of plastic suffocating the mangroves

Autumn 2020, then 2021, then 2022: technical monitoring of the plantation and mangrove health
Operator
PUR Projet helps companies to restore the ecosystems on which they depend, while enabling local communities to improve their living conditions through long-term projects. Through agroforestry, land conservation and sustainable agricultural practices, PUR Projet helps companies strengthen and secure their supply chains. As a social enterprise, PUR Projet reinvests its profits in the development of innovative projects, encouraging local entrepreneurial initiatives for a responsible, positive and virtuous economy..
Budget
The total budget to be collected is €15,500 for the two components that are the planting of 5,000 feet of mangroves and the fight against plastic waste. For each planted and sustainable mangrove foot, the total cost is 3.10 €.
Large companies are financing the other components of the project: agroforestry and coral restoration.
The budget breakdown is as follows:
Installation costs
Nursery and transport : 0,30 €.
Financial incentives: €0.20
Technical support : 0,24 €.
Equipment : 0,06 €.
Administrative costs of the local organisation: 0,10 €.
Risk coverage: 0.20 €.
Long-term monitoring by local teams: 0.30 €.
Impact monitoring: 0,10 €.
Plastic waste management : 0,50 €.
Project development and overheads: €0.50
ATFY collection fee (20%): 0,60€.
Total cost per tree: €3.10
They donated to support this project in 2019: