Background & challenges
French Guiana boasts more than 1,500 species of trees. It is the Amazonian cradle of France, representing nearly 80% of its biodiversity. Globally, the territory is one of the world's five High-Biodiversity Wilderness Areas (HBWA).
This exceptional diversity is unfortunately under threat from the rise in urban development, linked to population growth, and the presence of a large gold mining operation that is devouring forests inland.
Today, there is limited knowledge of preserving local species. Whether for seed germination, cutting procedures, or other production methods, obtaining resources from mother trees is complicated.
This project, close to the town of Cayenne, seeks to produce forest reproductive material by planting 625 trees, all native species, which will be nurtured to grow fruit or propagated vegetatively (cuttings, for example). Over time the trees will thus constitute an easily accessible, seed orchard of endemic species from French Guiana, which will help tackle loss of biodiversity and overexploitation of the natural environment.
Creating this orchard comes after an R&D project on the reproduction of these native species in nurseries. Harvesting, storage and cultivation practices have been developed by L'AgroForestière (LAF), a Guianese pioneer in this field.
The plantation plans to grow 53 varieties of different species on a plot of land at the  project's beneficiary's farm, which has been awarded the Organic Agriculture (AB) label. The seedlings will be raised in line with AB specifications designed to use the least possible inputs.
Establishing a seed orchard contributes to ambitious objectives for the territory of French Guiana, namely:
biodiversity preservation by creating a plot for genetic conservation and reproduction of local species;
meeting the needs of local agricultural and agroforestry development by reviving old and heritage varieties of fruit;
meeting the greening needs of towns by offering plants and species adapted to urban areas, while boosting the value of local resources;
responding to the issues of restoring degraded land, mining sites or riverbanks by using living plants to protect surface and sub-surface soils against erosion and instability;
generating revenue for the project beneficiary's farm and establishing financial independence by selling seeds and seedlings ;
meeting demand from the timber industry in French Guiana and the objectives of the Regional Forest Wood Programme on the need for coastal forest plantations to compensate the loss of primary forest.
Project type

Agroforestry seed orchard
Beneficiaries

The farm SCEA L'Agro Forestière (Civil Society for Forest Exploitation), i.e. three women and three men
And the people of French Guiana, who will benefit from the enriched local biodiversity.
Number of trees

Species planted

53 different native species: palm trees, timber trees and spice trees (see details of the species below)
Partner

French Agroforestry Association
Palm trees : 110
Oenocarpus bacaba; Oenocarpus bacaba; Bactris gasipaes; Bactris gasipaes; Oenocarpus bataua; Euterpe oleracea; Euterpe oleracea; Manicaria saccifera
Timber trees :  471
Samanea saman; Balizia pedicellaris; Bagasse guianensis; Aniba rosaeodora; Carapa guianensis; Cordia alliodiora; Hymenea courbaril; Protium spp; Pouteria guianensis; Swietenia macrophylla; Bombacopsis glabra; Cola nitida; Schizolobium parahyba; Inga sp.; Jacaranda copaïa; Dycorinia guianensis; V. tomentosa; Tabebuia impetiginosa; Platymiscium spp; Hanthrocanthus spp; Diplotropis purpurea; Simaruba spp; Caesalpinia echinata; Ocotea tomentella; Sterculia pruriens; Ocotea guianensis; Ocotea rubra; Tachigali melinoï; M. bidentata; Erisma uncinatum; Andira coriacea; Vuacapoua americana; Parkia spp; Platonia insignis; Eperua spp; Swartzia spp; Crysophyllum sanguinolentum; Enterolobium spp; Clusea rosea; Inga alba; Virolla spp; Cariocar spp;
Spice trees : 44
Pimenta spp; Cinnamomum zeylanicum; Cinnamomu cassia.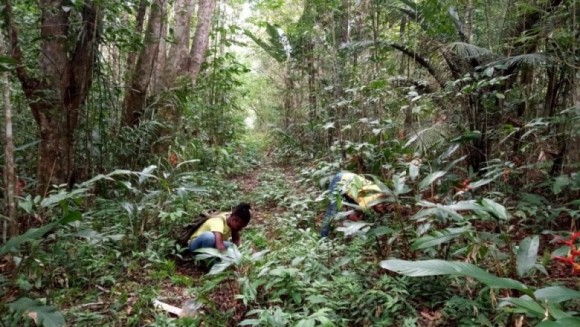 Works timeline
March 2020: plot preparation using a forestry mulcher
April 2020: planting rows of around 10 trees of the same species, to ensure better survival of young shoots, and establishing a fully operational, agroforestry seed orchard
May 2020 – end of 2022: routine maintenance
Planting partner

The French Agroforestry Association (AFAF), created in 2007 under French law 1901, develops agroforestry in France for agriculture and in the political arena, as well as with the general public. It is a platform for exchange and partnerships between farmers, agroforestry operators, researchers, political decision-makers, local authorities, and administrative bodies. The AFAF proposes recommendations at both national and international levels and works to ensure trees regain their role within farming systems.
Within this project, the Association is in charge of technical follow-up with beneficiaries over time and providing information needed for communications.
Budget
The total budget to be collected is €25,625 or €41 per lasting tree,
95% allocated to the planting project, broken down as follows: :

Plants and replenishment: €8.1
Mulching: €3.9
Protection and stakes: €1.2
Technical advice and monitoring: €14
Coordination, project management, and communication: €5.8
A Tree For You collection, monitoring and communication costs (14.51%): €5.95

and 5% (€2.05) to support the structural costs of A Tree for You.
The farm is self-financing the planting and soil preparation stages, set at €12 per tree, i.e. 22% of the total project cost.