Background & challenges
The project is situated in Phnom Kulen National Park, in the village of Anlong Thom, near the town of Siem Reap and Angkor archaeological site. Phnom Kulen was a stronghold of the Khmer Rouge until 1996. Due to its remote location, Phnom Kulen suffered enormously from the ravages of war and its fast-growing population remains today one of the poorest and most isolated in this province.
The majority of the villagers are farmers, growing rainfed rice (in non-submerged fields), cassava, sweet potatoes, and maize. They practise the method of slash-and-burn agriculture, clearing and burning their cultivated plots for one year, then leaving them to the forest for about ten years, giving the soil time to regenerate.
For some time now, villagers have transformed many plots of land used for rice production into permanent cashew plantations instead of leaving them to the forest. This breaks the cycle of slash-and-burn crop rotation and means villagers have to clear new forest plots to farm. Phnom Kulen National Park declared cashew tree cultivation illegal because it leads to an excessive rate of forest clearance: only 20% of the forest cover remains today.
Therefore, the National Park is facing major environmental, demographic, and socio-economic challenges, as well as having to protect the exceptional archaeological heritage of the site.
An initial project was carried out by Agrisud International, which supported 1,870 farms in 8 communes of Siem-Reap province. The project presented here is a continuation of this work and seeks to plant 6,200 fruit trees in the village of Anlong Thom, benefitting 170 farmers. This project will deliver several benefits by offering producers alternatives to marketing cashew nuts, namely:
greater food and nutritional security;

enabling farmers to supply the local food market with fresh and diversified products, to also benefit from tourism and generate additional and sustainable income;

protect biodiversity by increasing the number of installed species, limiting the extension of monocultures and the pressure on forests.

ensure soil quality by curbing surface erosion, a major issue due to both low plant cover and increasingly intense rainy seasons;

contribute to the protection of watercourses from drying out and to the recharging of groundwater.

Contribute to their firewood needs (recovery of pruning residues).
Project type

Beneficiaries

170 family farms, as well as villagers from neighbouring villages.
Number of trees

7,000 trees planted, of which 6,200 are expected to remain over time.
Species planted

Different agroforestry species: Citrus sp. (orange, lemon, grapefruit), neem Azadirachta indica, avocado Persea americana, mango Mangifera indica, cocoa Theobroma cacao, jackfruit Artocarpus heterophyllus, jujube Ziziphus, coconut trees Cocos nucifera
Partner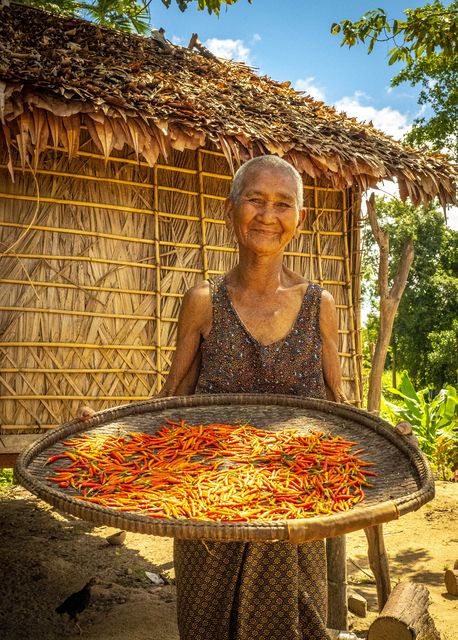 Works timeline
January to February 2021: identification of sites and beneficiaries by technicians.

March to April 2021: technicians to train beneficiaries on planting techniques.

May 2021: beneficiaries to create planting holes, holes monitored by technicians, planting by beneficiaries.

September 2021 to April 2025: monitoring of seedling recovery by technicians.
Planting partner

Created in 1992, Agrisud International is a general interest association.
Its teams help people in need to set up and develop very small, family-run agricultural holdings that are viable and sustainable thanks to agroecology. Such ventures create value and are economically profitable. They are organised and implanted in their territory and on local markets. How so? Because the entrepreneurs follow a professional development path that leads them from precarity to independence: 70,000 very small holdings supported since 1992.
Operating in Cambodia since 1995, Agrisud is active in 15 countries in Africa, Asia, South America, and the Caribbean.
Its total annual budget of €4 million is financed 70% by public funding (French Development Agency, European Union, Coop déc.) and 30% by private sources (foundations, businesses, individuals).
Budget
The total funds to be raised amount to €62,000. The price for planting a lasting tree is €10,
95% allocated to the planting project, broken down as follows:

Plants: €5.65

Technical supervision in the year of planting: €1.04

Technical supervision for the next 4 years: €0.65

Project coordination: €0.73

A Tree For You collection, monitoring and communication costs (14.3%): €1.43

and 5% (€0.5) to support the structural costs of A Tree for You.
They donated to support this project in 2020 and 2021: