Background & challenges
Wegscheid communal forest lies in la Forêt des Volcans de Wegscheid, a regional nature reserve that is home to remarkable flora and fauna. It boasts  protected species such as the lynx, black woodpecker, chamois, peregrine falcon, and certain plants like the false azoon, martagon lily, spearhead polistic, humble hawkweed, plumeria lettuce, and Hoppe's Alchemilla. This Reserve also serves as a historical memory of the regional mining heritage.
Some parts of the forest mainly comprise fir and spruce stands. Since 2018, these species have suffered from drought and successive attacks from bark beetles. These insects parasitise many tree species, especially spruce, by feeding on the soft wood just under the bark, and can thus cause significant damage. Tackling this pest is mainly based on prevention (sanitary cutting), since to date no chemical treatment exists.
The project therefore aims to replace the diseased spruce trees in Wegscheid forest with a variety of species more resilient to climate change. To this end, 4,260 trees of 9 different species will be planted sustainably in two waves of planting.
This first objective is linked to an educational component, since several classes from the commune's primary schools will be made aware of the environment and forests throughout the year. The children, who today are less and less in contact with nature, will be able to discover the forests on their home territory as well as those around the world, thanks to a twinning with schools in Madagascar, which will follow a similar approach. Each child will then be able to plant between 5 and 10 trees in Wegscheid forest during a half-day planting session.
  The educational component of this project will allow the children, by planting their trees, to:
put their hands in the soil, discover the richness of the forest, and reconnect with nature;
take action for the common good through a gesture for the long term that is free for themselves, others, and future generations;
take this opportunity to act for the world now, instead of waiting until they are adults, and so discover their potential as eco-citizens;
participate in international solidarity by discovering the world's forests and exchanging with schoolchildren in Madagascar who, like themselves, are replanting trees on their territory. rom an environmental standpoint, planting trees:
contributes to structuring the soil throughout their lifetime;
provides natural shelter for a wide range of fauna and flora;
provides a cooler microclimate, thus mitigating the effects of climate change;
directly tackles global warming through carbon sequestration and establishing adapted tree species.
Project type

Beneficiaries

Inhabitants and primary school children in the commune of Wegscheid (approx. 400 people) and teachers
Number of trees

8,000 trees planted, of which 4,260 will remain after the first thinning operation in 35 years time
Species planted

9 different species: Douglas (Pseudotsuga menziesii), European larch (Larix decidua), Pinus laricio (Pinus laricio var corsicana), Sessile oak (Quercus petraea), Small-leaved lime (Tilia cordata), Field maple (Acer campestre), Wild pear (Pyrus communis), Wild apple tree (Malus sylvestris), White Birch (Sorbus aria), Chestnut (Castanea sativa), Cedar (Cedrus)
Partner

Office National des Forêts (ONF), Kinomé and Canopée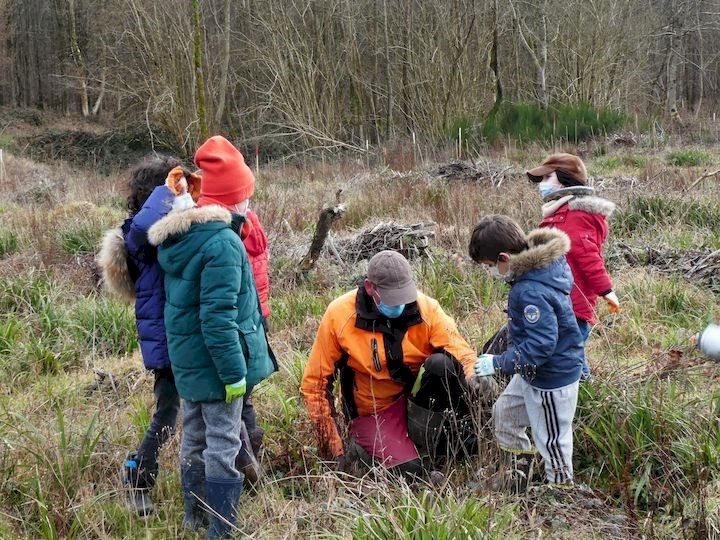 Works timeline
This schedule is by planting year, of which two are planned for this particular project: the first in June 2021/2022, the second in June 2022/2023.
This project is running in conjunction with the mangrove planting educational project to restore natural resources and tackle food insecurity in Madagascar.
Period 1: June, then September, year A (by Kinomé)
Identification of partner schools by Kinomé and initial contacts
Providing the digital platform so teachers can access educational resources on the world's forests
Period 2: October to December, year A
Beginning of October, year A: tillage (by the ONF)
Project presentation and remote training of teachers in using the digital platform, by Canopé (Kinomé)
In-class project presentation, by Kinomé
Discovering French forests, especially the great forest of the East (Kinomé)
Discovering the world's forests in class, especially forests under threat in Madagascar (Kinomé)
Period 3: November, year A, to February, year A+1 (date to be confirmed with all partners and depending on weather conditions)
Planting 2,000 seedlings with school classes over two or three days (Kinomé with the ONF)
Awarding the children their planting certificates (Kinomé)
Period 4: February to May, year A+1 (Kinomé)
Classroom work led by teachers on discovering the world's forests and furthering the pupils' knowledge and understanding of the forests on their home territory following planting
Operation by Kinomé in the reforestation project area in the foreign country (Madagascar) to audit the project, hand over the twinning work to the young Madagascans, and organise the exchange with France
Period 5: year A+1 and years after (ONF with the commune of Wegsheid)
Year A+1 or A+2: crushing of partitions if necessary
Year A+1 or A+2 planting the remaining 6,000 young trees, of which 2,000 with the school classes over two or three days (Kinomé with the ONF)
Year A+3: replanting (planting new trees) if less than 80% recovery
From year A+4 to year A+9: first clearing operations  to be carried out, every five years
First thinning operation at the 35-year mark
Forest exploitation of the massif at the 160-year mark.
Planting partner
The territories entrusted to the Office National des Forêts cover nearly 11 million hectares of forest, including 6 million in the overseas departments and 4.7 million in mainland France. With nearly 9,000 employees throughout the country, the ONF ensures the renewal and proper maintenance of the 1,300 state-owned forests and the 15,600 local authority forests. The management of public forests makes it possible to reconcile three inseparable objectives: meeting human needs through the production and harvesting of wood, preserving the environment and welcoming the public. It is based on the forestry regime, which provides a regulatory framework and a set of guarantees to preserve forests in the long term while ensuring the renewal of wood resources.
Kinomé is a social enterprise created in 2005 that carries out four activities: consulting, project management, applied research and environmental education.
Kinomé's stated objective is to reverse the deforestation curve, but also the disastrous trajectory of climate change and collapse of biodiversity – first and foremost by bringing about a change in the way we view nature in order to restore it to the heart of a new economic and social development model.
To trigger this new paradigm, Kinomé brings together all the players (NGOs, companies, scientists, institutions, schools, experts, individuals, etc.) for unprecedented cooperation to multiply the positive impacts on the living conditions of populations.
Also involved in this project is Canopé, a public administrative institution and publisher of educational resources, under the Ministry of Education.
Budget
The total budget to be collected is €97,980, i.e. €23 per tree, broken down as follows:
95% allocated to the planting project

Preparingland, making the plot available, seedlings, small items of equipment, technical monitoring of the trees planted by the French National Forests Office (Office National des Fôrêts, ONF) : €8.10.
Technical animation and supervision of schoolchildren on the planting day , technical demonstration by ONF: €2.93
Educational activity, presenting the project in class before planting; logistics and teaching support for the children on the planting day; follow-up of the teaching work and twinning over the school year by Kinomé: €4.51
Transporting the pupils by bus with driver from the school to the plantation site, by Kinomé: €0.90
Technical support, teaching follow-up and training to use the digital platform, throughout the school year by Canopée: €0.22
Project engineering by ONF-Agir for the forest fund: €0.90
Coordination and reporting, national coordination, local set-up, follow-up with partners and sponsors by Kinomé: €0.88
Collection, follow-up and communication costs for A Tree for You (14.81%): €3.41

and 5% (€1.15) to cover A Tree for You's overheads