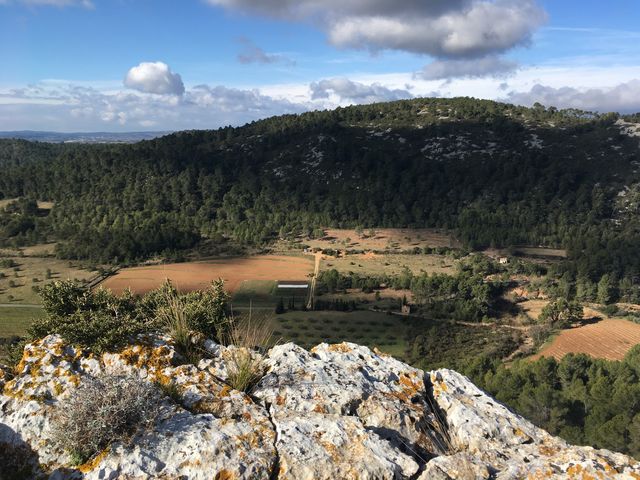 Bize-Minervois, in the Aude department, France, april 2020
In the Aude department, agroforestry planting started in February. Woofers, friends, neighbours… Many came to help plant 400 trees during a workcamp lasting several days, with good weather. With technical support, the farmer, Vincent, planned and organised all the key steps of the project: after digging swales (shallow ditches to retain runoff water) last fall, the team staked the planting lines and dug the planting holes using a tractor. Seedlings were then planted by hand and mulched with shredded material. A fence was built around the planting area to protect the young trees from damage from wild ungulates.
However, the nursery supplying some of the plants has been impacted by the coronavirus lockdown. For Vincent it has been a race against time to plant the remaining 200 seedlings without outside help during the confinement period.
Budburst on the young planted trees has begun as spring arrives. They are now starting their annual growth. On these sunny hillsides in the south of France, summer is often extremely dry and hot, which can be challenging for young trees. Hopefully, the olive trees Vincent planted last year withstood the drought well, so he's optimistic for this year's planting. Indeed, he has chosen his plant materials with great care: sourced from a local nursery, they are adapted to the local climatic conditions.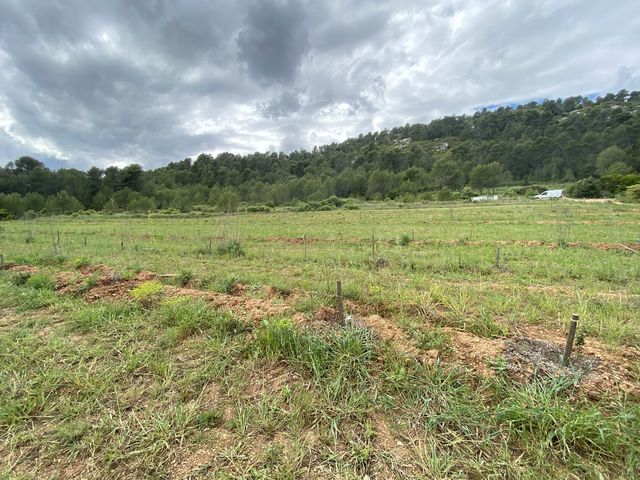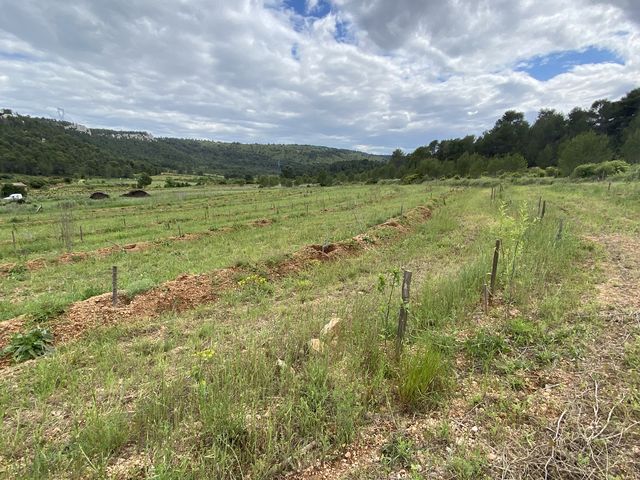 These trees will gradually improve the soil, bring shade, and carry cool to these dry hillsides, which are extremely hot in summer. Having planted oaks and olive trees at low density last year, Vincent is now completing this planting and diversifying his production thanks to the A Tree for You donations; cherries, apricots, pears, plums, olives…. Many products he will add to the vegetables already sold in baskets direct to consumers.
About ten sheep will arrive on the farm at the beginning of summer, to graze the agroforestry plots as part of a dynamic system of rotational grazing. The flock will thus keep the area around the base of the trees clear, while fertilising the soil at the same time. In the first few years, the small planted trees will be protected individually to prevent any damage by these sheep.
Having followed courses in grafting and pruning, Vincent will apply these techniques as soon as the trees are big enough. He plans to continue planting trees on the rest of the farm in the coming years.