Background & challenges
The village of Liming is far from the main roads, isolated in the far northwest of Yunnan province (southwest China) and located in a natural park facing serious environmental challenges: recurrent landslides, loss of biodiversity and forest decline.
Local communities belong to ethnic minorities – Lisu and Naxi – with ancestral skills in gathering and preparing medicinal plants.
Until now, these communities have long lived off a few food crops like beans, potatoes, and corn. In recent years, they have suffered from a drop in the selling prices of their crops, as well as environmental damage caused by these monocultures, as well as increasingly regular droughts – all of which are threatening their independence.
Rural exodus is also a problem in the region, with the younger generations losing interest in agricultural activities.
The objective of this current project  is to refocus the producers' activity by planting agroforestry gardens consisting of:
local tree species that deliver environmental benefits: soil stabilization, water regulation, and enhancing biodiversity. In particular for Yunnan torreya, an endemic species in danger of extinction;
fruit trees to increase, diversify, and secure income in the medium term;
medicinal plants to enhance know-how and provide a source of short-term revenue.
A significant part of the project is dedicated to training producers in ecological principles such as how trees contribute to stabilizing and enriching soil, adopting environmentally friendly agricultural practices, and the importance of enriched biodiversity.
An important part of project involves reforesting non-agricultural border areas with environmental species to address challenges like erosion and landslides.
Another aspect involves setting up experiments on soil health and erosion – to increase the impact of the project on the environment and local communities.
The first experiment aims to develop the establishment of plant cover on all the planted plots, as well as implementing more sustainable agricultural practices.
The second experiment is a pilot project with five farmers in the hamlet of Laomo (Liming village). All the crops are to be planted in a contour pattern (i.e. perpendicular to the slope, or parallel to the contour lines and not in the direction of the slope) to limit soil erosion and leaching.
Project type

Agroforestry and forestry
Beneficiaries

Around 15 to 20 producers. Mainly women since most of the men have left to find work in the city.
Number of trees

5,190 trees planted, of which 5,073 long lasting
Species planted

20 different species.
Trees that deliver environmental benefits: Yunnan torreya, Armandii pine, Torreya grandis
Fruit trees: Sichuan pepper (Zanthoxylum piperitum), green pepper (Piperaceae), peach (Prunus persica), quince (Cydonia oblonga), plum (Prunus domestica)
Medicinal plants: Gentiana macrophylla, Paris polyphilla, black cardamom, etc.
Partner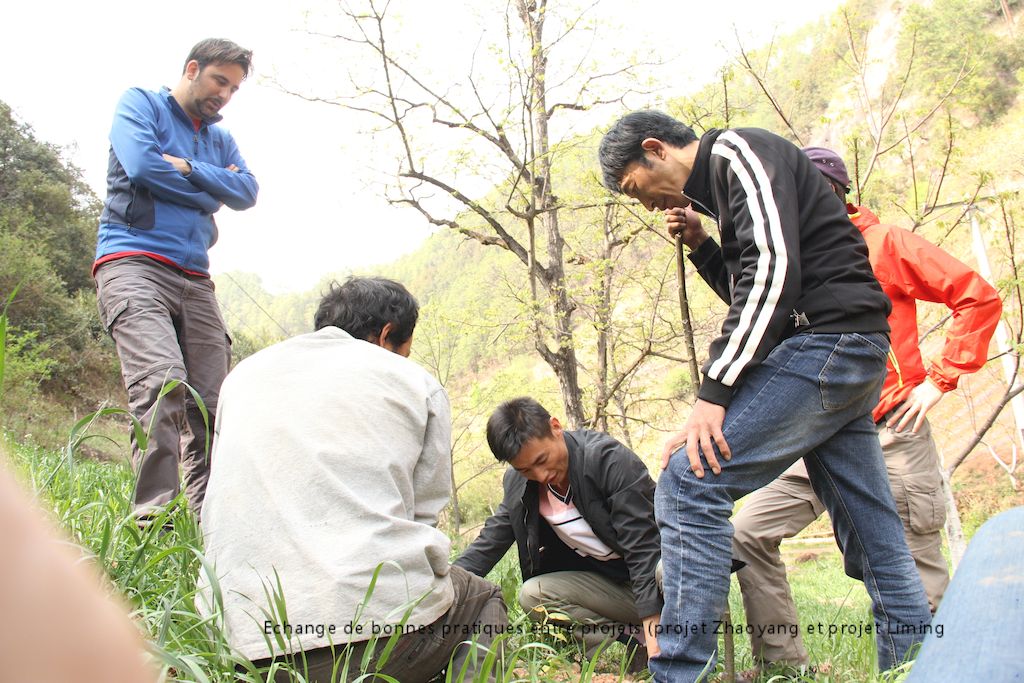 Works timeline
February 2021- March 2022: preparation of seedlings in nursery
December 2021: discussion of the planting programme with producers and selection of farmers based on applications
February 2022: pre-registration and potential adjustment of the distribution of species to match pre-selected plots
March-April 2022: planting (medicinal plants, fruit trees)
June 2022: planting environmental trees
October-November 2022: monitoring plantations 1 (survival rate after planting)
October-November 2023: follow-up of plantations 2 (survival rate after a first winter)
October-November 2025: follow-up of plantations 3 (survival rate after three years)
October – November 2025: follow-up of plantations 3 (survival rate after three years)
Planting partner

PUR Projet helps companies to restore the ecosystems on which they depend, while enabling local communities to improve their living conditions through long-term projects. Through agroforestry, land conservation and sustainable agricultural practices, PUR Projet helps companies strengthen and secure their supply chains. As a social enterprise, PUR Projet reinvests its profits in the development of innovative projects, encouraging local entrepreneurial initiatives for a responsible, positive and virtuous economy.
Budget
The total budget to be collected is €41,598.60, or €8.20 per perennial tree, broken down as follows
95% of which is allocated to the planting project, broken down as follows

Nursery and transport: €0.80
Other installation costs: €0.39
Installation of plant cover: €0.83
Financial incentives: €0.41
Technical assistance: €0.41
Administrative costs of the local organisation: €0.11
Management costs by the cooperative: €0.11
Cooperative management costs for the plant cover pilot: €0.04
Provisions: €0.18
Coordination of the PUR Project: €0.97
Costs (Programmes/ overheads/ margin) PUR Project: €2.06
VAT on programme management: €0.41
Collection, monitoring and communication costs of A Tree for You (14,39%): €1.18

and 5% (€0.41) for A Tree for You structure costs